Expandable Pot Organizer Rack – 4 DIY Storage Positions, Length Adjustable
$48.99
Expandable kitchen organizer pot rack adjusts 16.3-31in, perfect fit across all cupboards, cabinets & worktops.
Adjustable pot holder stores up to 13 pans, lids, and griddles of various sizes. Ideal for keeping the kitchen organized and clutter-free. Large capacity saves space in cabinets and countertops.
Heavy-duty iron pan organizer w/ spray painting finish. 14 adjustable dividers and deeper U-shaped grooves for small & large pans.
Four installation modes are available, including a pots and pans rack with 14 adjustable dividers that can be used as either one pot rack organizer or two individual pot rack organizers.
Free shipping on orders over $50!
Satisfaction Guaranteed
No Hassle Refunds
Secure Payments
Description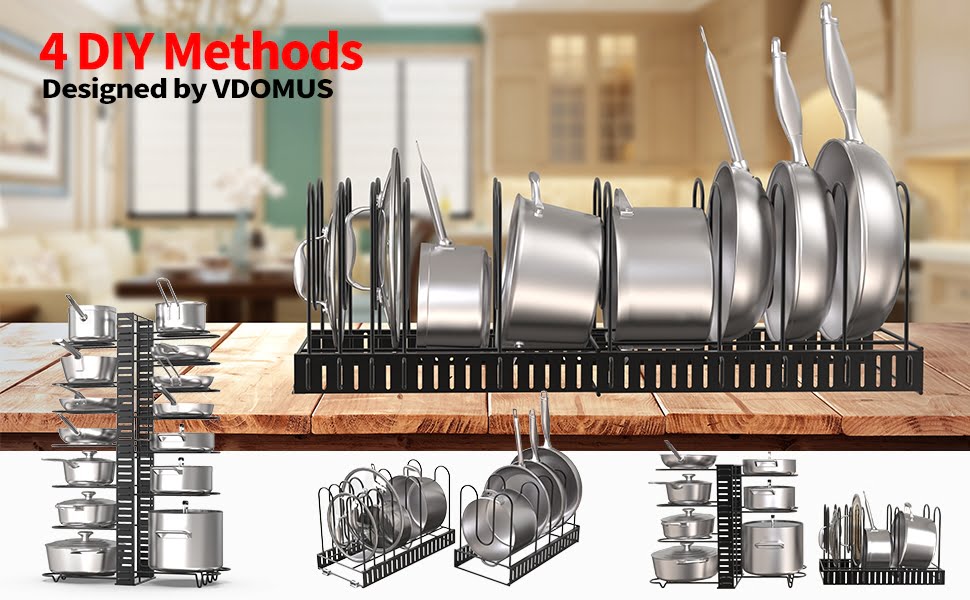 Our Pot Organizer Rack For Cabinet
With 4 different DIY methods, you can easily customize the rack to fit your pots, pans, and other kitchen essentials.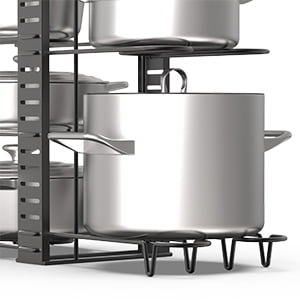 Bottom Supporting Legs
We know that your cookware is an investment and that you want to protect it. That's why we designed our pot rack organizer with bottom supporting legs that are specifically designed to avoid direct contact with your cookware.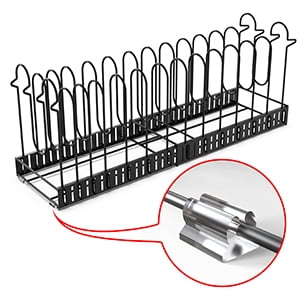 Plastic pads for method B
Our pot rack organizers are crafted with heavy duty iron, ensuring that they are sturdy and durable enough to hold even the heaviest cookware.
To ensure easy installation and maximum stability, we have included 2 plastic pads specifically designed for the horizontal installing method.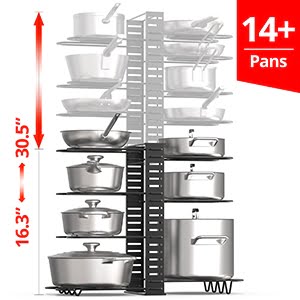 Option A
The adjustable pot holder is a great way to maximize your kitchen space and keep it tidy. It can store up to 13 different-sized frying pans, sauce pans, griddles, and pots, all thanks to its extended length and adjustable position. Make your kitchen look neat and organized!
This pot rack features 14 adjustable dividers and a deeper U-shaped groove than most other pot racks for a sturdier hold for both small and large pans.
Option B

This pot pan rack is extensible, adjustable between 16.3 and 31 inches, making it perfect for any kitchen or space. Its unbeatable versatility ensures it fits all cupboards, cabinets, and worktops.

Option C

This pot and pan rack comes with 14 adjustable dividers, allowing you to assemble them as one pot rack organizer or use them separately as two pot rack organizers, providing you with four unique installation methods.

Option D

This pot and pan rack comes with 14 adjustable dividers, allowing you to assemble them as one pot rack organizer, or separate them into two pot rack organizers. There are four unique installation methods available.
Additional information
| | |
| --- | --- |
| Material | ‎Cast Iron |
| color | Black |
| Number of Shelves | ‎14 |
| Included Components | ‎Hardware |
| Item Weight | ‎8.86 pounds |
| Product Dimensions | ‎31 x 8.5 x 11.5 inches, ‎8.5"D x 31"W x 11.5"H |