18pcs Stainless Steel Mixing Bowls with Airtight Lids
$49.99
Durable Stainless Steel Bowl:

 This bowl is made from high-quality, food-grade stainless steel. It is designed with a mirror-finish interior and fingerprint-proof matte-finish exterior for improved shock-proof and rust-proof performance, eliminating any issues with plastic, which can be harmful.

Non-Slip Silicone Bottom:

 Each mixing bowl has a silicone bottom to stabilize it while mixing, kneading or whipping food. Not only does this prevent the bowl from sliding, but it also makes it easier to hold.

7 Sizes Available & Space Saving:

 This set of 7 provides a range of sizes, from 1.5 to 7 quarts, allowing you to mix, marinate, and wash easily. The stackable design helps to save space, and the set also comes with a basting brush, spreader spatula, flexible spatula, and egg whisk, making cooking simpler.

Air-Tight BPA-Free Lids:

 These BPA-free bowls come with lids that fit snugly to keep an air-tight seal, keeping food fresh and clean. Push down to ensure a secure fit, perfect for storing food!

Easy To Clean/Use:

 This bowl set is perfect for any occasion and is a great gift for bridal showers or housewarmings. The bowls are easy to clean by hand and are even dishwasher safe. Plus, they are sized to fit on standard refrigerator shelves, cabinets, or in the pantry. For best results, hand-wash the lids to minimize exposure to heat.
Free shipping on orders over $50!
Satisfaction Guaranteed
No Hassle Refunds
Secure Payments
Description
---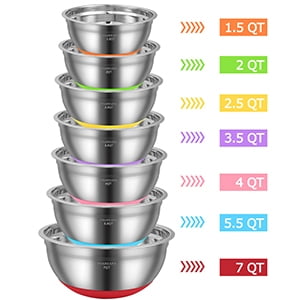 Why Choose Us?
The stainless steel our products are made of is guaranteed food-safe.

You don't have to worry about handwashing greasy bowls because our stainless steel bowl is dishwasher-safe!

It can withstand extreme heat and cold.

The lids that come with the bowl are not just air-tight but BPA-free too.

The interior looks elegant with a mirror finish.

The matte finish of the exterior is fingerprint-proof!

The bottom is made of colorful food-grade silicone.

It features a nesting design that promotes space saving.
DIMENSIONS OF THE BOWLS
Capacity / Depth / Diameter
1.5 QT Bowl: 3.2 x 6.3 inch
2.0 QT Bowl: 3.5 x 7 inch
2.5 QT Bowl: 3.7 x 8 inch
3.5 QT Bowl: 4 x 8.8 inch
4.0 QT Bowl: 4.4 x 9.5 inch
5.5 QT Bowl: 4.5 x 10 inch
7.0 QT Bowl: 5 x 11 inch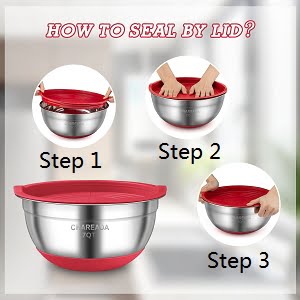 How to Make the Lids Stay On?
1. Securely place the lid of the correct size over the bowl.
2. Press the center of the lid gently to release the air.
3. Firmly press the lid down to create an airtight seal.
Air-Tight Lid

They come with vibrant, air-tight lids that fit securely for food storage – and they're BPA-free!

Smooth Rounded Edge

Designed to be smoothly polished to avoid pinching fingers and allow for a drip-free pour and a  comfortable grip.

Non-Slip Silicone Bottom

This silicone base prevents your bowls from slipping and sliding while you mix. Its contrasting color also makes it easier to distinguish.
6 Measuring Spoons

The stackable design allows for more efficient space-saving. It features markings that are great for measuring both wet and dry ingredients.

Small Spatula

Smooth out the surface of the cake with the cutter head for a perfectly clean cream scrape.

Egg Whisk

It is made from high-quality stainless, so it's durable, and it is the ideal size for beating eggs.

Spreader Spatula

This spatula is perfect for scooping, scraping, stirring, folding, and mixing, and they're strong enough to handle even the firmest, heaviest dough.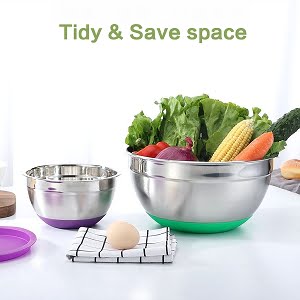 Nesting Bowls Set
The nesting design of these bowls takes advantage of saving space, making it easier to keep your kitchen neat and tidy.
This cooking set comes with all the essentials to help you whip up tasty meals with ease – a basting brush, spreader spatula, flexible spatula, and egg whisk.
TIPS
1. Please disinfect thoroughly before and after each use.
2. Please avoid using a knife or any sharp tools to avoid causing damage to the stainless steel material.
3. The bowls are tough enough to go in the dishwasher, but the lids need some extra TLC – they should only be washed by hand to avoid them getting deformed.
Additional information
| | |
| --- | --- |
| Bowl Material | Stainless Steel,Silicone |
| Number of pieces | 18 |
| Special Feature | Freezer Safe,Durable,Stackable,Airtight |
| Capacity | 3.5 Quarts, 7 Quarts, 5.5 Quarts, 1.5 Quarts, 2 Quarts, 2.5 Quarts, 4 Quarts |
| Included Components | Lid |
| Product Dimensions | 7 x 7 x 3.5 inches, 7"W x 3.5"H |
| Item Weight | 5.98 pounds |