64 Pcs Cake Decorating Supplies Kit
$26.99 – $31.99
Complete Cake Decorating Tools: This complete set has everything you need to become a pro at decorating cakes!
Smooth Revolving Turntable: This turntable stand is designed to make decorating cakes for birthdays, weddings, and other events a breeze. It rotates clockwise and counterclockwise, making it useful for both right and left-handed users. To make the process smoother, it is equipped with hidden ball bearings. Use the straight spatula to apply icing to the sides of the cake while rotating the turntable, and the angled spatula for the top. The turntable is made from non-stick, non-toxic, dishwasher-safe plastic, making it ideal for both beginners and professionals.
Easy-to-Use Numbered Tips: You don't have to worry about which tips will produce which decorations – we have provided a pattern chart that clearly shows what each tip will create, making tip selection easy.
Professionally Selected Icing Tips: Our selection of 24 tips includes 2 Round Tips, 3 Leaf Tips, 2 Petal Tips, 2 French Tips, 2 Basket Weave tips, 5 Open Star Tips, 4 Closed Star Tips, and 2 Drop Flower tips.
Useful Accessories: Smooth icing on the sides and top with three scrapers and carve out designs. Swap out tips without having to switch the piping bags with two couplers. Use the cleaning brush to clear any narrow areas on the tips.
Free shipping on orders over $50!
Satisfaction Guaranteed
No Hassle Refunds
Secure Payments
Description
This 64-piece cake decorating kit includes everything you need to quickly create delicious, eye-catching cakes – from numbered icing tips to a spatula and cake leveler.
This 64-piece cake decorating set will provide you with all the essentials to make your favorite cakes at home. The numbered icing tips and pattern chart included in the set allow you to create the desired decorations with ease. The set also includes a cake leveler, spatula, cake comb scraper set, icing bags, and brush to help make complicated decorating tasks simpler. This premium range of products offers diversity for both novice and experienced bakers alike.


With the cake turntable, turn it either way to decorate it your way!
This cake turntable combines aesthetically pleasing, dishwasher-safe, non-sticky, and non-toxic plastic to make up the perfect cake decorating tool. With hidden ball bearings, it rotates your cake 360 degrees seamlessly and is easy to move with the utmost precision. Designed to be equally useful for both left and right-handers, the non-skid silicone ring at the bottom ensures it stays non-slippery for the duration of the decorating process.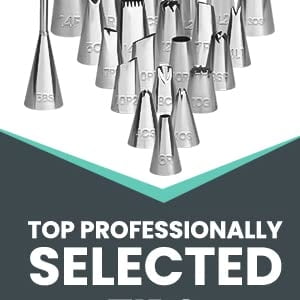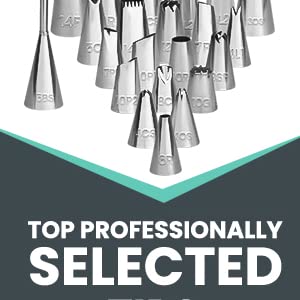 The BPA-free and stainless steel icing tips are perfect for all sorts of decorating.
These 24-numbered icing tips will revolutionize your cake decorating! From the simple Round Tip to the intricate Basket Weave Tip, you can get the exact style you're looking for with our pattern chart. Newbie designers and professional bakers alike will appreciate the easy-adjustable tips that make it a breeze to create stunning cakes. Plus, with so many options available, the possibilities are truly endless!
Quick and Simple Cake Cutting

This must-have tool for your cake-decorating supplies is easy to use. You can adjust the wires within it to easily cut the cake into perfect slices. It makes icing your cake a breeze and ensures that the end result is a delicious, moist cake. The perfect trim of the cake is an integral part of any recipe, and this cake leveler makes it simpler than ever.

Easy and Precise Decorating

The ergonomic design of the spatulas makes cake decorating with frosting easier by providing access to hard-to-reach areas. The lightweight and efficient design allows you to hold it for hours and apply icing to your cake evenly. The firm grip and angled blades make it easy to cream the edges by simply rotating the turntable. The flexible stainless-steel quality works smoothly on the edges of the cake.

Smooth or Textured Finish

The spatula's carving capabilities need a helping hand- that's where our 3-piece cake scraper set comes in! These premium plastic scrapers help to settle the icing around the edges and smooth out the layers. Once your sponge is on the turntable and you've finished icing with your spatula, these scrapers ensure your cake looks amazing every time.
Additional information
| | |
| --- | --- |
| Weight | N/A |
| size | 100 PCS, 130 PCS, 64 Pcs |
| Product Dimensions | 10.82 x 10.94 x 2.87 inches |
| Item Weight | 1.3 pounds |