Charcoal Torch Lighter
$87.99
Perfect Gift Idea: This industry grade torch is the perfect gift! Sear filet mignon, ribeye's, briskets, and sous vide steaks to perfection, start a lump charcoal in seconds, or finish off 5 Star desserts like crème brulee. It's the ideal addition to a home BBQ accessories kit, or perfect for impressing your neighbors with a cooking show. Voted #1 cooking torch of 2022, it's a smoking hot meat gun you won't want to miss!
Great Outdoor Uses: With its compatibility with your green egg cooker, you'll be able to enjoy roaring lump charcoal, campfires, fireplaces, and chimneys in less than a minute. This makes for the perfect opportunity to spend time with family and friends. Additionally, you can use it for glass blowing, welding, burning yard waste weeds, and of course, cooking!
Meat Masterpieces & More: This torch lighter is perfect for searing sous vide steaks, glazing baked hams, caramelizing ribs, roasting bell peppers, caramelizing sugars, melting cheese and finishing off that sweet dessert.
Adjustable Fuel Control: Control the flame to get the job done – whether it's searing on a cast iron skillet or grilling on a BBQ, use as much or as little flame as necessary.
Packs a Punch: This culinary torch is compatible with any one-pound Butane map gas, Bernzomatic, or Coleman propane tank, making it small enough to fit into your RV, kitchen drawers, or even your backpack for outdoor adventures.
Free shipping on orders over $50!
Satisfaction Guaranteed
No Hassle Refunds
Secure Payments
Description
Voted #1 Cooking Torch in 2022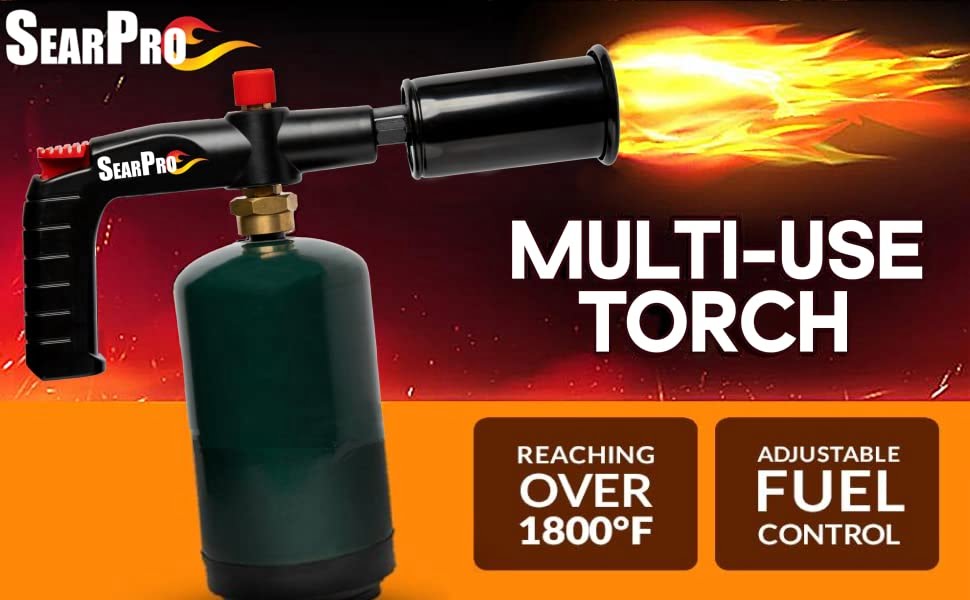 | | | |
| --- | --- | --- |
| This versatile torch is perfect for BBQs, garages, kitchens, and baking supplies. You can turn the flame down to light candles, start fires, and even light cigars! It's an essential RV accessory for lighting campfires or making smores and has been featured on TV shows and commercials. Tik Tokers, this is an ideal trend item for your videos! Use as much or as little flame as you need to get the job done. | This torch is the perfect attachment for your 1-pound propane tank. It's small enough to fit into your kitchen drawers or in your backpack for outdoor adventures, making it ideal for home or on-the-go use. With it, you can easily sear food in no time, light up your charcoal grill in seconds, or get a raging campfire going. As seen on TV, this torch has been used on cooking shows nationwide, revolutionizing how you light up your charcoal grill and start a campfire. | This compact hand-held torch is packed with power. With temperatures reaching over 1800 degrees Fahrenheit, its wide, powerful flame makes it perfect for getting the heat you need over a large surface area quickly. Professional bee hives and nectar collectors use it, showing its versatility. So why use a grill brush when you can easily burn off food chunks with this jet engine-sounding torch? It's even backed by First Responders US-wide. This weekend, kick back, open up your cigar case, crack a beer open, and enjoy using your new torch – the perfect addition to your cooking collection! |
Endorsed by first responders nationwide!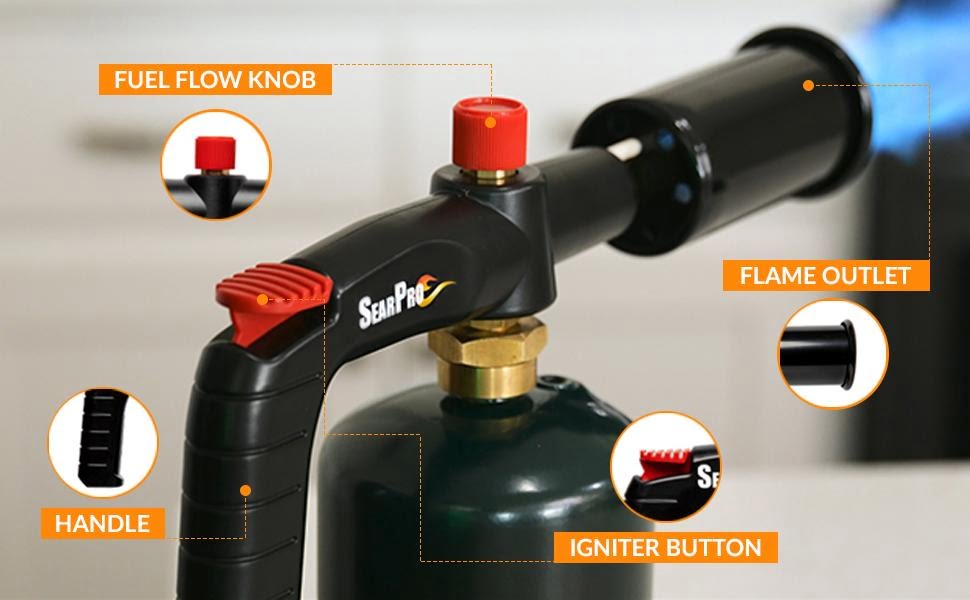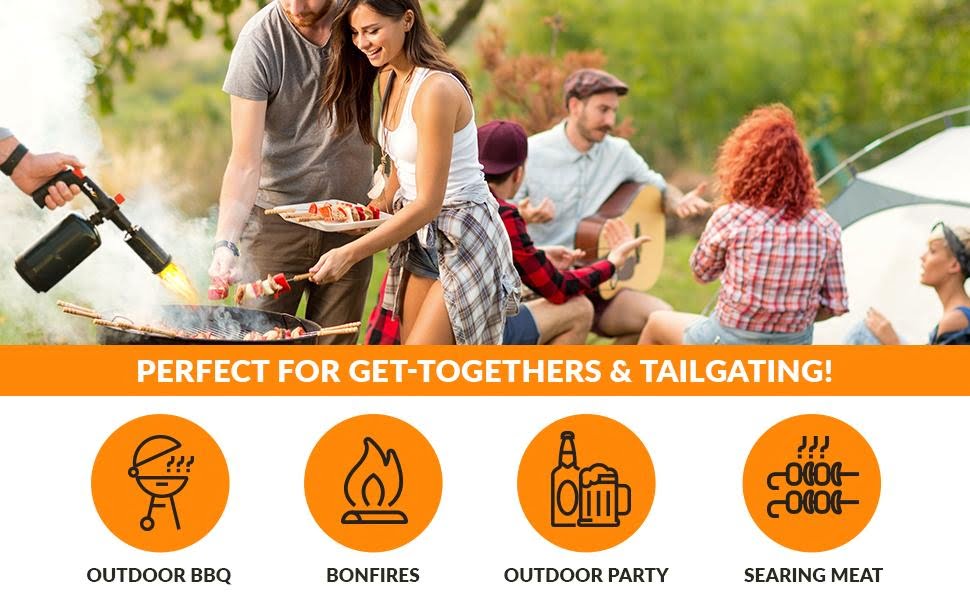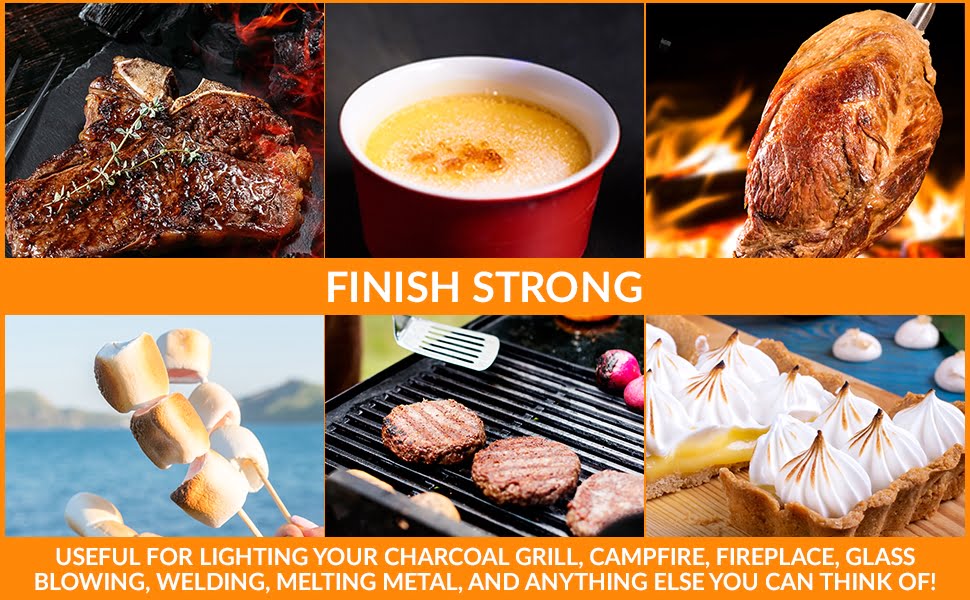 Additional information
| | |
| --- | --- |
| color | ‎Charcoal |
| Maximum Temperature | ‎1800 Degrees Fahrenheit |
| Item Weight | ‎1 Pounds |
| Product Dimensions | ‎13 x 6 x 3 inches |