Kids Sandwich Cutters Set – Cookie, Vegetable, Fruits Shapes Food Mold
$13.90
This set is perfect for special occasions like Thanksgiving, Christmas, Baby Shower, Birthdays, and Children's Day. Includes 12 versatile shapes, 4 bread cutters, 8 fruit cutters, and 4 flower cutters in adorable shapes like Mickey, Dinosaur, Heart, and Star. Ideal gift for kids, lover, or friends.
Our kids sandwich cutters are made with safe, food-grade 430 stainless steel and a PP grip, ensuring the health of your child.
These shape cookie cutters have a sharp enough edge to easily cut through your bread or cookie and are durable enough to be reused. The plastic rims provide better grip and protect your hands from any mishaps.
Our amazing kids cookie cutters offer millions of possibilities for fun! Use them to create cookies, bread, vegetables, fruits, pancakes, toast, ham, omelets, cheese, cake, biscuit and so much more!
Trust our stainless steel sandwich cutouts with no risk! If you are not satisfied, please contact us within 24 hours and we will do our best to make it right.
Free shipping on orders over $50!
Satisfaction Guaranteed
No Hassle Refunds
Secure Payments
Description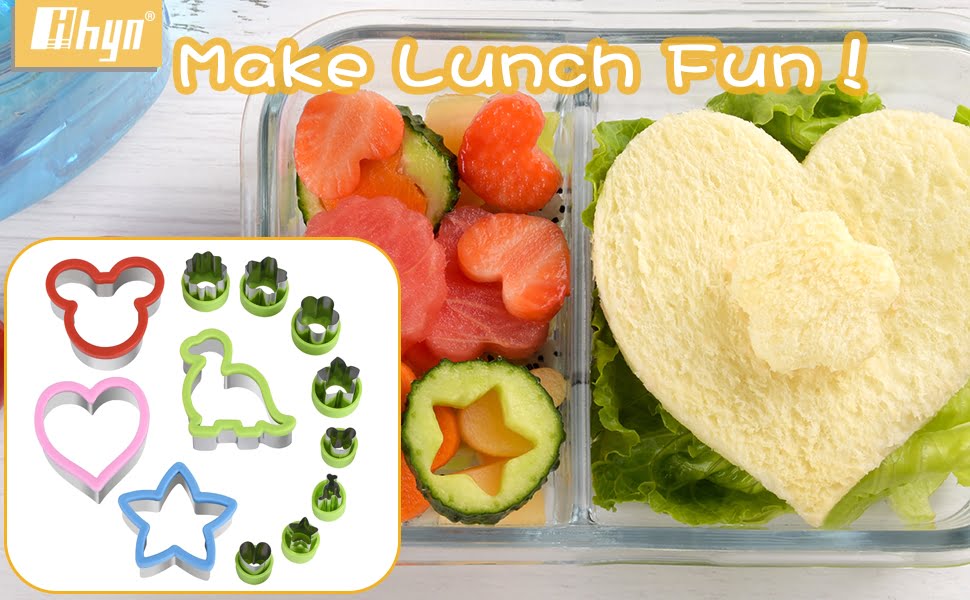 Do you have picky eaters in your home who aren't eating as much as they should? Are you looking for an easy way to make their lunches more interesting?
Shape Cookie Cutters are the perfect way to add excitement to lunchtime! From sandwiches to veggies, these cutters make it easy to switch up your kid's plate with fun shapes. Plus, they make for a great holiday or special occasion gift for the little ones in your life! Celebrate Thanksgiving, Christmas, baby showers, birthdays, or Children's Day with these unique cutters.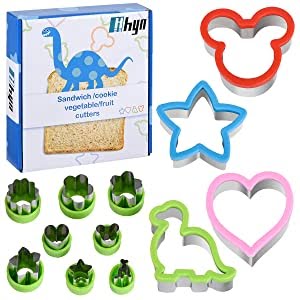 Product Specification
Mickey mouse cookie cutter: 4.09*3.94*1.77 inch
Dinosaur cookie cutter: 4.09*3.94*1.77 inch
Star cookie cutter: 4.06*3.94*1.77 inch
Heart cookie cutter: 4.09*3.94*1.77 inch
Large flower fruits cutter shapes: 1.49*1.69 inch
Mini fruits cutter shapes: 0.98*1.57 inch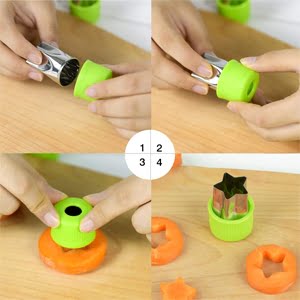 Food-grade 430 high-quality stainless steel and pp non-slip handle.
Features
The kids sandwich mold is revolutionizing the sandwich-making game! Combining a thicker stainless steel construction, our product is less likely to bend and break – giving you a sandwich-making experience that's more durable and reliable.
The stylish green rims of the fruit press kit provide an unbeatable grip and offer complete protection for your hands!
Kids Sandwich Cutters Set – Cookie, Vegetable, Fruits Shapes Food Mold
Wow your friends and family with delicious, creative sandwiches and cookies, as well as bite-sized fruits and veggies! It's the perfect present for any mom, and a great addition to any picnic or family gathering!
The Playful Lunch


Transform a boring lunch into something special with our sandwich cutters! Your kids will be proud to show off their healthy bites and it'll make them even more excited for lunchtime. Let them have fun with their meals and make lunchtime something to look forward to!

Different Shapes for Bread

Transform your sandwich into something extraordinary with food cutters! Enjoy creating delightful shapes like Dinosaur, Mickey Mouse, Star and Heart with your next meal.

Assorted Shapes for Fruits


Shape your child's dishes into something creative and fun! Get the 4 large flower plus 4 mini fruits cutters to transform your child's fruits and vegetables into something exciting!

Creativity

Create some culinary magic with your little one and our Hhyn Sandwich Cutters set! Get creative and have a blast making delicious meals together. Watch your child beam with pride when they see the finished product of their hard work!