Dough Blender, Pastry and Cookie Cutter Set
$28.90
High-quality stainless steel dough blender with 5 graduated sizes cookie cutters
Bake with accurate measurement. Cookie cutters are marked with "inch/cm" for accuracy.
Ergonomic non-slip rubber grip handles
Rust-free, easy to clean, and dishwasher safe
FREE pastry brush and bowl scraper
Free shipping on orders over $50!
Satisfaction Guaranteed
No Hassle Refunds
Secure Payments
Description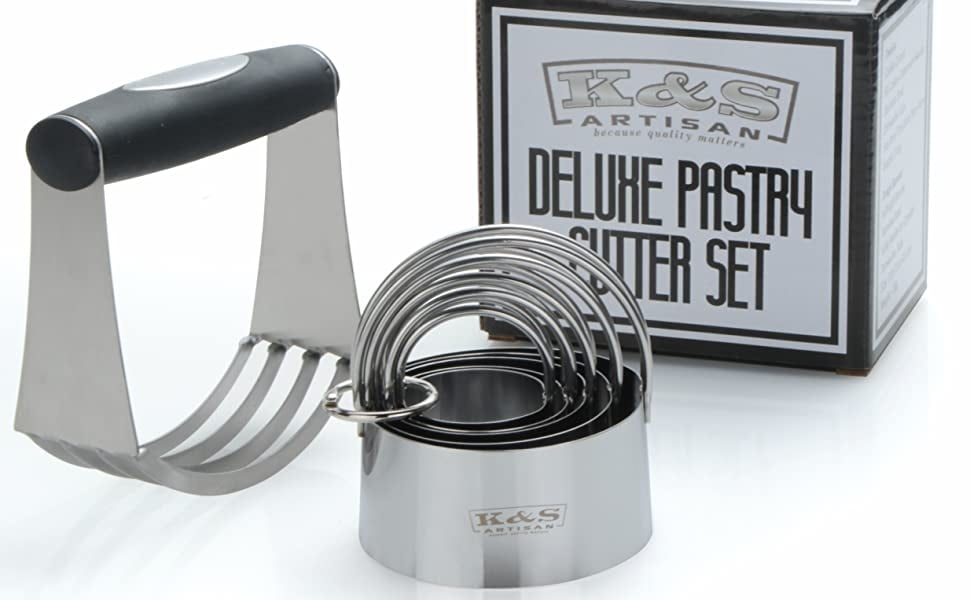 Professionally designed for all your baking needs
Isn't it a hassle to keep having to handle cold butter with your fingers when you're trying to mix it in with your ingredients? Doesn't that take effort and time that you don't need to spend? Don't your hands get messy after you get them in the mixture? We've got the perfect solution for you!
Instead of struggling with a rolling pin and other baking tools, use our pastry blenders and pastry cutters to effortlessly grind your ingredients for baking. Watch as cold butter slips through the blenders quickly to create a perfect dough – then use the included pastry circle cutters to shape it in no time!
Solid, sturdy, and non-slip grip handles
| | | |
| --- | --- | --- |
| With this dough blender, you can mix, cut and crunch your way to delicious cookies! Not only does it blend the perfect dough for your biscuits, but it also chops up chocolate bars, nuts, and more to take your baking to the next level. Get ready to experience the amazing taste of homemade cookies! | Treat your favorite foodie, baker, cook, or caterer with this awesome and affordable baking dough tool set! Perfect for weddings, housewarmings, and stocking stuffers, this set is sure to bring a smile to their faces. Not to mention, it's easy to use, so even those with no baking experience can create delicious meat patties, burger sliders, finger sandwiches, mousse, and appetizers in no time. With this gift, you'll be adding both class and fun to any kitchen. | You'll be amazed by how easily these cut through hard or sticky dough of the highest quality, making them ideal for a variety of delicious recipes such as pizza, pastries, doughnuts, ravioli, pasta, biscuits, English muffins, cookies, scones, shortcake, fondant crumpets, tarts, frying eggs, and pancakes. |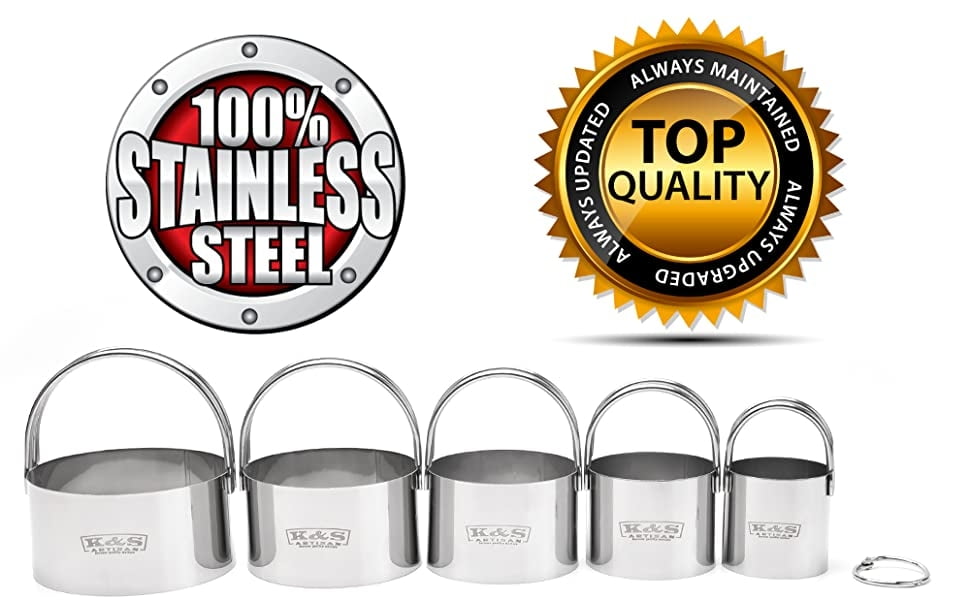 Our dough blender features a soft grip handle and our cutters are designed with strong handles to protect your fingers, making them comfortable and enjoyable to use.
Cookie Cutters Sizes
Dia 8.2cm ; H 4.1cm; Total H 8.5cm
Dia 7.3cm, H 4.1cm, Total H 8.0cm
Dia 6.3cm, H 4.1cm,Total H 7.5cm
Dia 5.3cm, H 4.1cm,Total H 7.0cm
Dia 4.5cm, H 4.1cm,Total H 6.5cm
Also included in the package:
| | | |
| --- | --- | --- |
| Upgrade your culinary experience with this Food Grade Pastry Brush! Our innovative bristles won't break or shed in your food; plus, they're heat-resistant and perfect for the kitchen, the grill, and even non-stick pans. The lightweight handle offers a soft and comfortable firm grip for easy basting. Get ready for an unbeatable cooking experience! | No more guesswork: The dough blender will mix your ingredients accurately and quickly to get the perfect dough. No more mess: The stainless steel blades of the dough blender will make sure that you don't end up with a messy kitchen counter. No more lumps and bumps: The durable design of the dough blender will ensure that you don't have to worry about lumps and bumps in your dough. | These multifunctional food-grade scrapers are perfect for any kitchen! Whether you need to scrape, chop, or shovel cream, cheese, chocolate, dough, or fondant, these easy-to-use and clean scrapers will help you easily get into any crevice or corner of your kitchen containers and bowls. |
Additional information
| | |
| --- | --- |
| Package Dimensions | 5.04 x 4.84 x 3.66 inches |
| Item Weight | 9.9 ounces |