Banneton Proofing Baskets for Sourdough Breads, Complete Set
$47.90
Round banneton – 9 x 3.5 inches, Oval banneton – 10 x 5 x 3 inches
Odor-free, easy to clean, and store
Spiral patterns to add texture and volume to your raising dough
Complete Set – banneton baskets, basket linen cloth liner, metal dough scraper, plastic scraper, wooden sourdough lame, handy dough whisk, and a basket cleaning brush
Free shipping on orders over $50!
Satisfaction Guaranteed
No Hassle Refunds
Secure Payments
Description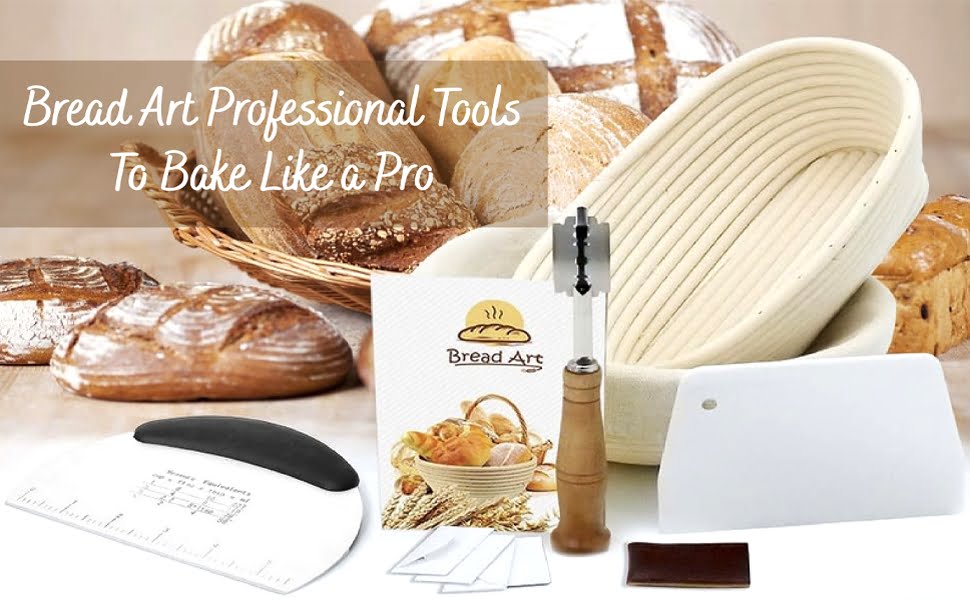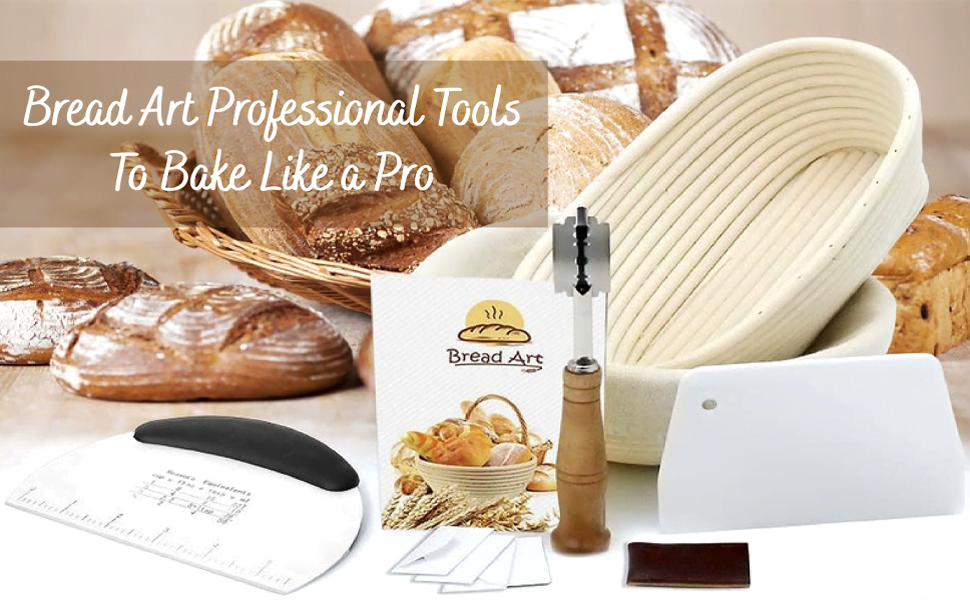 A life of joy and love in baking is truly wonderful.
If you've ever been afraid to try your hand at breadmaking, we're here to tell you it's easier than it looks! All you need is the proper baking bread supplies and tools – like our proofing baskets – and you'll be on your way to making delicious, homemade loaves in no time.
Proofing is an essential step in baking bread and other items where yeast fermentation and dough expansion take place. To achieve the perfect shape for your loaf of bread, you should use a banneton basket.
Create delicious, professional-looking artisan bread loaves at home with this proofing kit. Our 100% top-grade natural rattan round and oval banneton proofing baskets have been skillfully designed to mold your bread to a perfect shape. The complete kit also includes baking tools to make your experience even smoother and more enjoyable. Surprise yourself in every loaf with our complete set proofing kit – the perfect tool for baking light, flavorful bread with your family and friends.
Washable Linen Cloth Liners

Our baskets come with a stylish cloth liner – you can use it to prevent dough from sticking or go without for a more visually appealing homemade bread. Make the most of your banneton baskets!

Multipurpose Cutters/Scrapers

Our complete bakery kit includes two scrapers: one made of durable stainless steel with a non-slip handle to easily cut or maneuver your dough; and one made of flexible plastic to scrape your dough from the bowl without causing any damage.

Premium Quality Bread Scoring knife

Essential for any baker, our bread scoring lame comes with extra replacement blades so you can easily control the expansion of the bread as it bakes by cutting or scoring the dough. This will further improve the appearance of your loaves.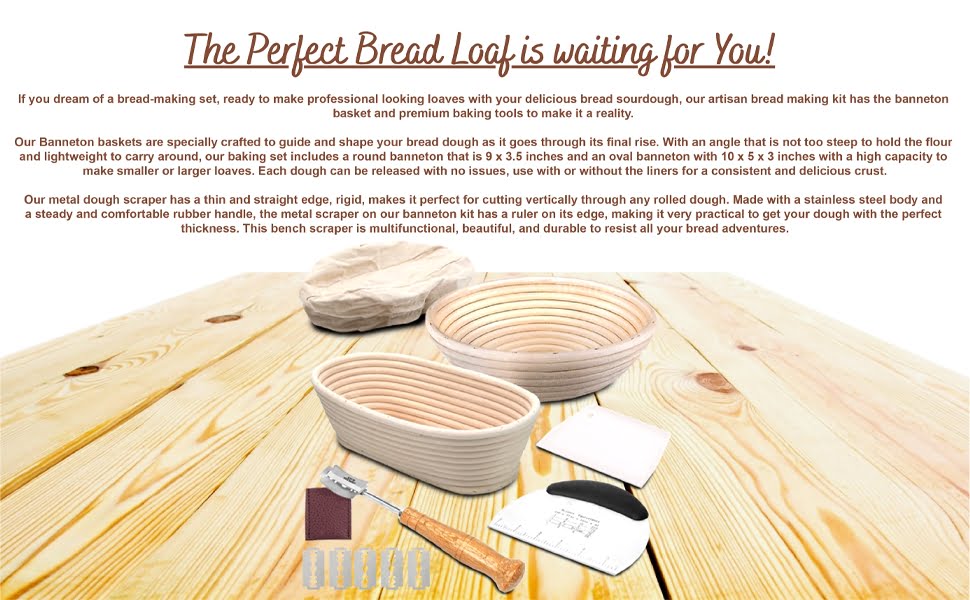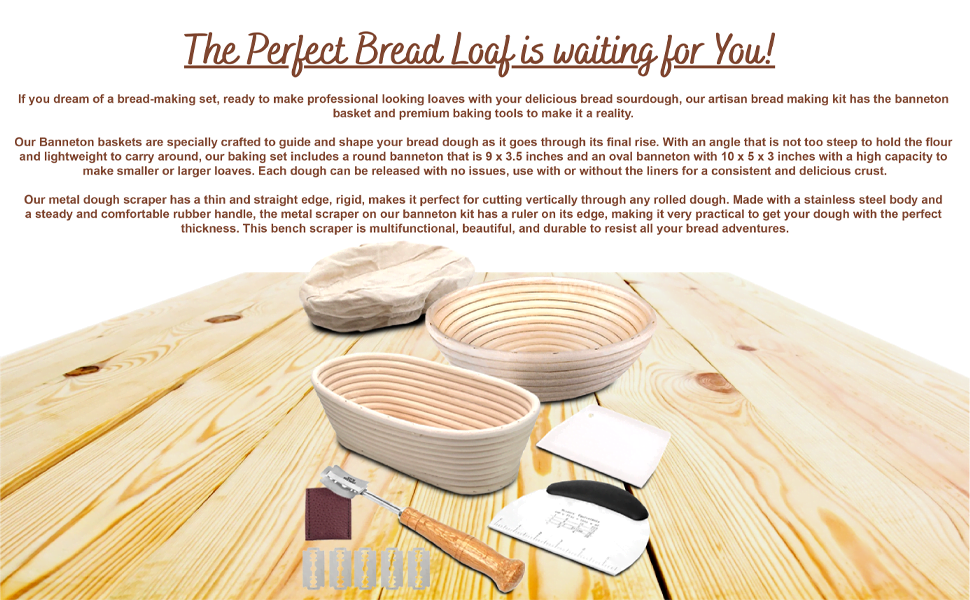 – Our banneton-proofing basket set is the perfect baking buddy to help you create delicious round and oval loaves of homemade bread. Each set includes a 9 x 3.5-inch round banneton and a 10 x 5 x 3-inch oval banneton. With this set, you can make all your loaf dreams come true! Not to mention, these proofing baskets are odor-free, easy to clean and store, and work great for all levels of bakers.
– Everything you need for your sourdough baking adventures awaits you in our complete set of supplies! Our handcrafted banneton baskets, made of natural rattan, are lightweight yet durable. Included is a basket linen cloth liner and metal dough scraper to divide and portion your dough. We've also thrown in a plastic scraper to scrape without scratching, a wooden sourdough lame for bread designing, a handy dough whisk for mixing, and a basket cleaning brush.
– Transform your bread-making journey to a new level with our selection of comfortable, efficient proofing baskets for baking. With or without the linen, these baskets will help to draw away moisture from the surface of your bread, creating a tantalizingly crisp and round crust. The spiral patterns will add texture and volume to your dough, creating a unique and eye-catching design that you can change whenever you'd like with the sharp lame.
– Share the love with a special baking gift that's sure to make hearts warm and homes happy! Our explosive sourdough starter kit has all the tools necessary to make baking a breeze – they're practical and easy to clean. Plus, it's a great way to create meaningful memories that will last a lifetime. With our kit, you'll be able to show your loved ones just how much you care about them, one loaf of bread at a time.
– Experience the satisfaction of baking the perfect loaf or your money back! Our banneton basket, bread bowl, and bread tools make baking easier and more fun for kids and adults, without the need for extra equipment or gadgets. We are confident that you'll love our brand and our promise is to provide you with the best baking tools out there. Shop with us and enjoy the best customer service around!
How To Use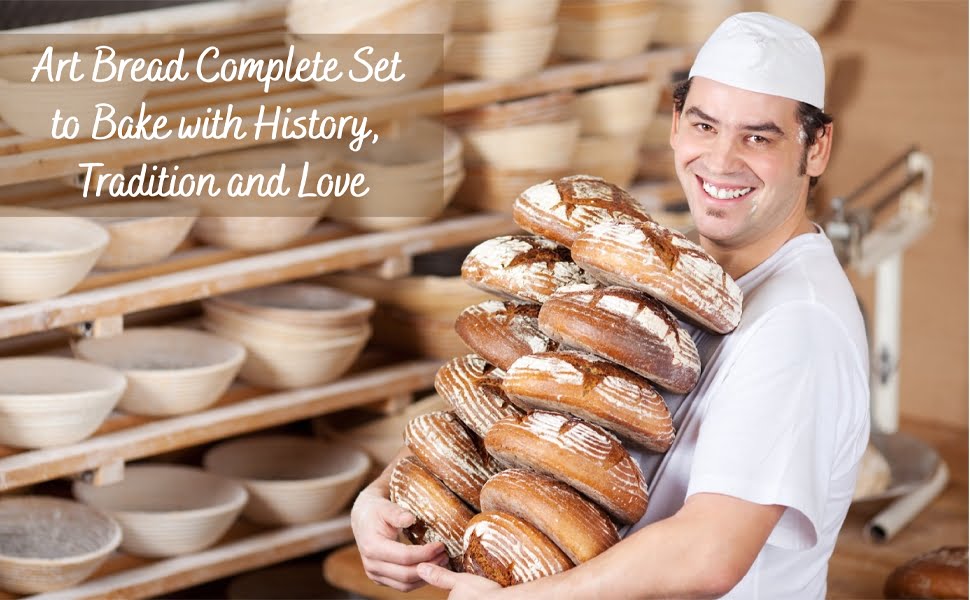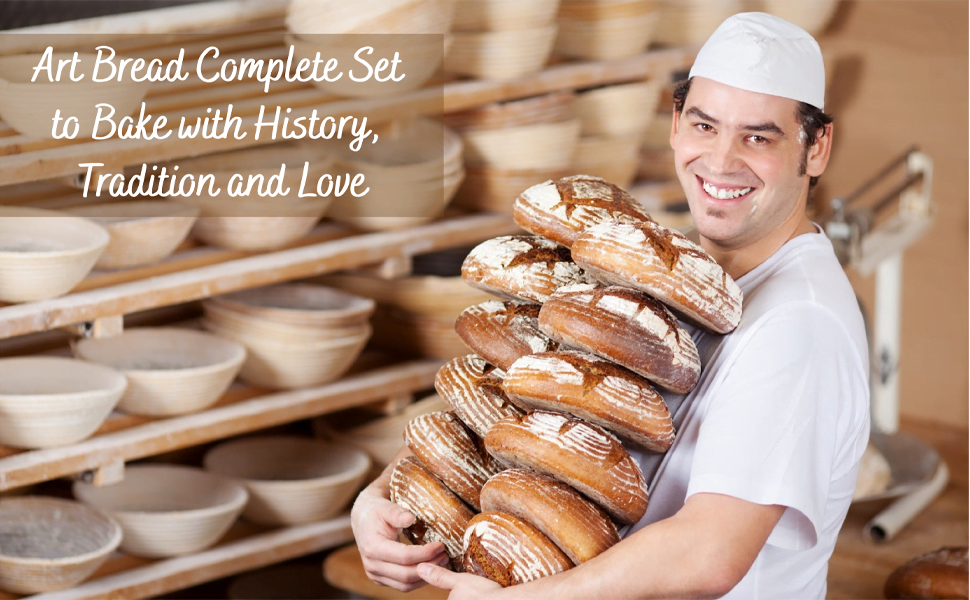 What you'll get
1 X 9 Inch Round Banneton with Cloth Liner
1 X 10 Inch Oval Banneton with Cloth Liner
1 X Multipurpose Metal Dough Cutter
1 X Multipurpose Plastic Dough Scraper
1 X Multipurpose Dough Whisk
1 X Wood Handle Bread Lame
1X Basket Cleaning Brush
5 X Blades with Blade Cover
1 X 4-page Basket Maintenance Manual
Additional information
| | |
| --- | --- |
| Product Dimensions | 9 x 9 x 3.34 inches, 9"D x 9"W x 3.34"H |
| Item Weight | 1.5 Pounds |
| Number of pieces | 10 |
| Material | Rattan, Carbon Steel |
| color | Natural |
| Shape | Round |
| Style | Rustic |