2-Pack Pot Lid Organizer Rack – 6 Tier Holder for Cabinet Door or Wall Mount
$28.90
2-pack pot lid organizer with 6 tiers providing countertop, wall, cabinet door, and under sink storage for handle lids, including rounded and ear knob lids.
Crafted from durable metal w/ black powder coating, offering strength/resistance. Waterproof, rustproof, and corrosion-resistant. A smooth surface ensures lids are scratch-free.
U-shaped design securely holds lids of various sizes & prevents round lids from rolling. Smooth balls on top protect the lid surface & prevent scratches. Reasonable width provides flexibility & convenience when taking/storing lids, perfect kitchen pot lid storage solution!
This pot lid holder has 4 adhesive hooks, no tools are needed. 3 screws are included for rough walls, giving you two ways to install them.
Get a 2-piece pot lid organizer (13.7 x 5.6 x 2.7 in.), no assembly req., 4 sticky hooks, 6 hardware packs, and 24/7 awesome customer service.
Free shipping on orders over $50!
Satisfaction Guaranteed
No Hassle Refunds
Secure Payments
Description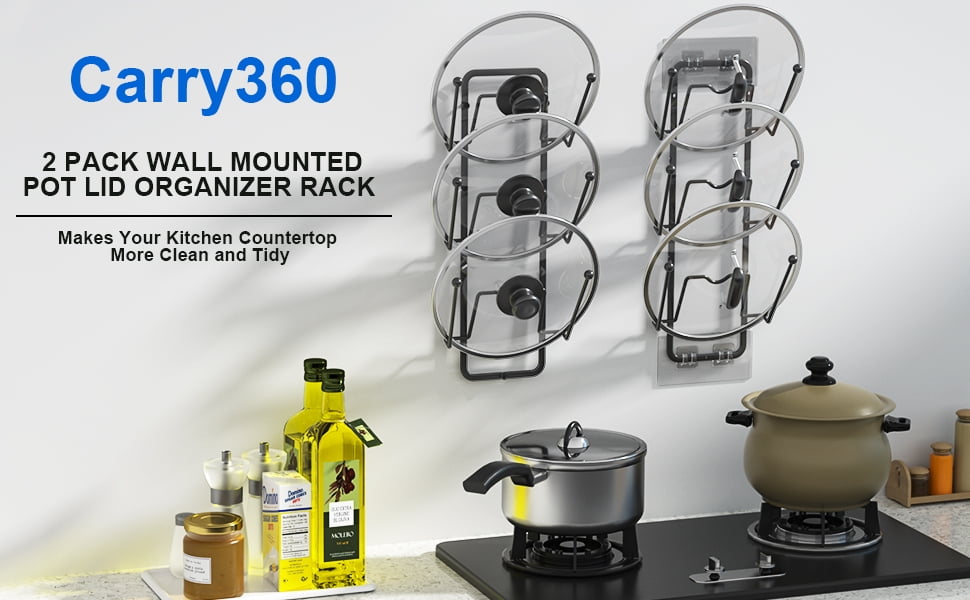 Discover the Benefits of the Pot Lid Organizer Rack
Transform Your Kitchen with the Pot Lid Holder – The Ultimate Solution for Efficient Kitchen Organization and Storage! This innovative kitchen tool is the perfect way to reduce clutter, maximize your space, and keep your kitchen clean and tidy. Here are just a few reasons why you need the Pot Lid Holder:
Say Goodbye to Clutter – The Pot Lid Holder helps you say goodbye to cluttered cabinets and drawers. With this tool, you can easily store your pot lids in one convenient location, freeing up space for other kitchen essentials.
Efficient Use of Space – This holder is designed to help you make the most of your kitchen space. Its compact design ensures that it can fit into any kitchen, while its sturdy construction keeps your pot lids secure and organized.
Easy to Use – The Pot Lid Holder is incredibly easy to use. Simply place your pot lids into the slots and you're done! Its simple design ensures that anyone can use it, regardless of their kitchen expertise.
Keep Your Kitchen Clean – With the Pot Lid Holder, you can keep your kitchen more clean and tidy. No more searching for pot lids in cluttered drawers or cabinets. This holder ensures that your pot lids are always within reach and easy to find.
Choose the Pot Lid Holder and experience the benefits of a well-organized kitchen!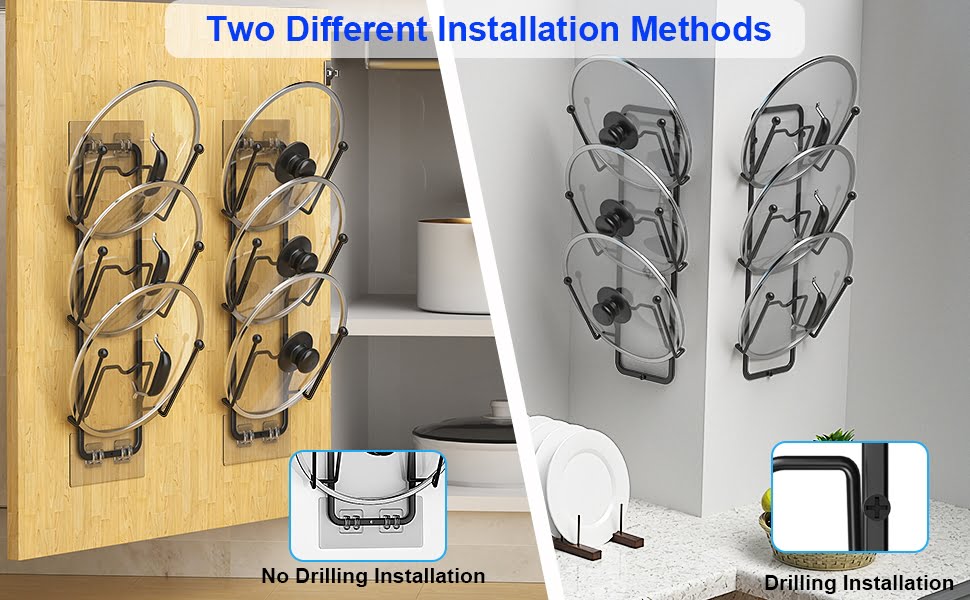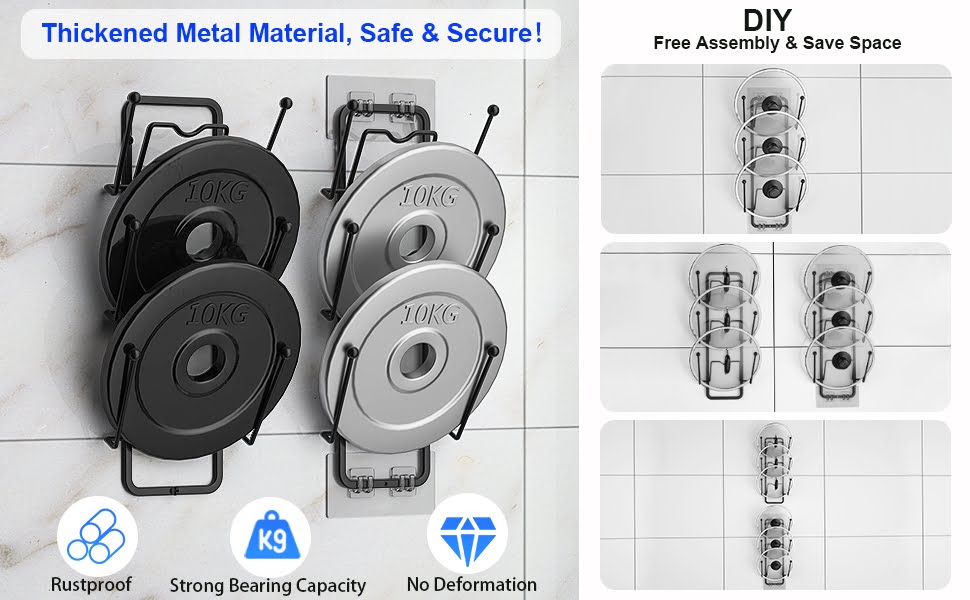 U-Slot Lid Holder

 Innovative U-shaped lid holder! With its unique design, it provides optimal support for all shapes and sizes of pot lids, ensuring secure and stable holding without any fear of slipping or falling.

Smooth Fixed Ball

With this added feature, you can rest assured that your pot lids will stay in pristine condition for years to come. Say goodbye to scratched and damaged pot lids with our lid holder rack.

Durable Lasting Quality

This upgraded design ensures that your lid holder rack will last for years to come, making it the perfect addition to any kitchen. Experience the ultimate in durability and stability with our lid holder rack.

Installation Methods

Our lid holder rack comes with versatile installation options that cater to your specific needs. You will receive 4 strong adhesive hooks that can be easily installed on smooth walls or cabinet doors without worrying about damaging your walls.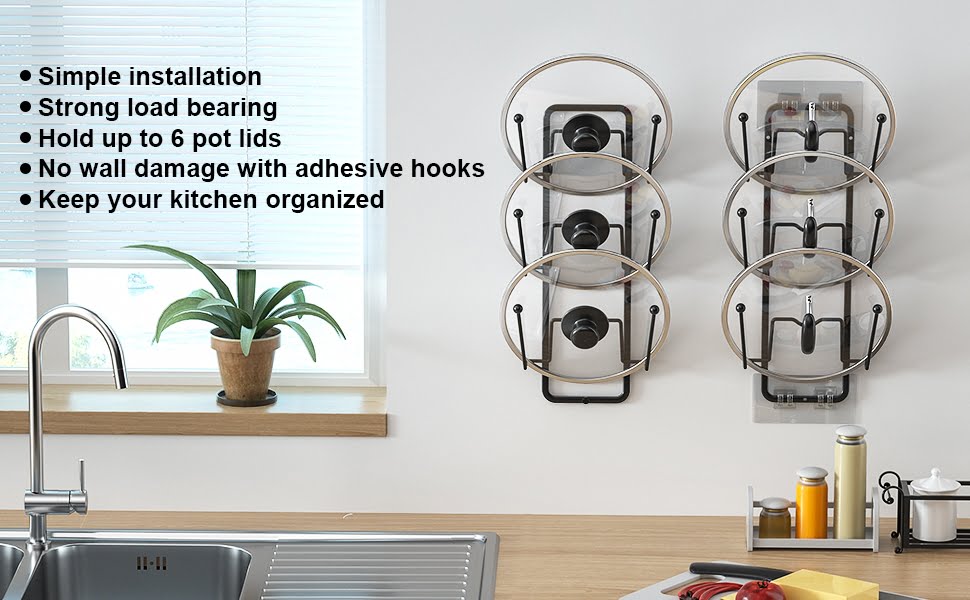 Additional information
| | |
| --- | --- |
| Material | ‎Metal |
| color | Black |
| Style | ‎Adjustable |
| Item Weight | ‎1.65 pounds |
| Product Dimensions | ‎13.78 x 3.15 x 5.59 inches, ‎2.7"D x 5.6"W x 13.7"H |